Digital Dossier
Includes instructions for logging in and editing your digital dossier.
Access Your Digital Dossier & Faculty Annual Report
Penn State Digital Dossier (Access using your Penn State user ID and password.)
Smeal Faculty Annual Report (Access using your Penn State user ID and password.)


Update Your Digital Dossier
The system permits you to "Manage Your Activities" and "Run Custom Reports."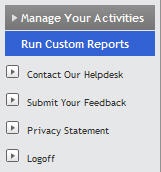 Under the "Manage Your Activities" function, Digital Dossier captures your data within four sections:
General Information
Teaching
Scholarship/Research
Service
Much of the information is populated for you from University databases like personal /contact data and education from Human Resources or courses taught from Budget Office files. Other information, like publications, has been uploaded from the College's Report of Publication for 2007/2008 – 2009/2010 academic years.
Each section (General Information, Teaching, Scholarship/Research, and Service) is driven by drop down menus for subcategories. For example, the Teaching Section contains these subcategories:

For the Teaching Section, data from University sources are loaded into these subcategories:
List of Courses Taught in Resident Instruction
SRTE and Teaching Evaluation
Each subcategory provides an input page to capture your information for that section. You have the ability to input/edit your data not prepopulated from University systems. In addition, you have access to "Run Custom Reports" that have been preformatted with applicable layouts like your vita, summary of your published research, or your dossier.
View the Digital Measures/FAR user guide.
View the Executive Summary for Faculty Activity Insights
Please contact the staff assistants in your department if you have any questions about the system.