Publishing
Learn about the publishing services offered by the RIIT Group.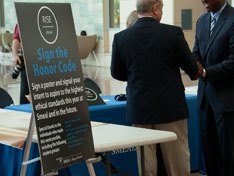 Publishing, which can also be referred to as page layout and print design, is closely tied to our graphic design services. It combines visual design elements with typography to produce documents for print and digital use.
Some examples of our publishing services are:
Brochures
Posters
Flyers
Booklets
Event signage
Printing
The majority of our publishing projects need to be sent out to the university Multimedia & Print Center or other service bureau, however, we have the ability to print full color posters in low volume in-house for a small fee. Depending on the size, we can also mount posters on foamboard for added durability and for placing on easels.
To request these services, please have your department staff submit a Multimedia request using the Smeal Service Management Portal.